Cloud-based Online Access to Computational Fluid Dynamic Simulations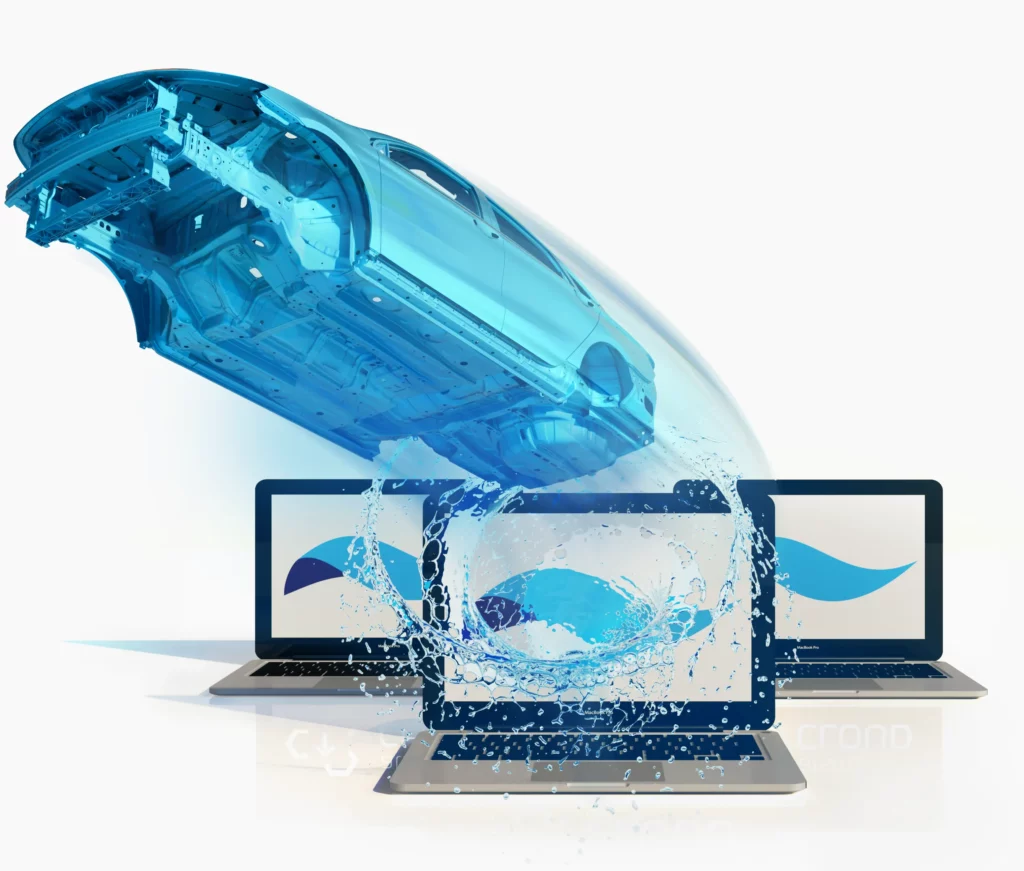 COA – CFD: Cloud-based Online Access to
Computational Fluid Dynamic Simulations
Computational Fluid Dynamics (CFD) simulations utilize computational resources to simulate free flows of fluids (air, water, etc.), and the interaction of fluids with surfaces. CFD simulations are used in development of new mechanical parts in the automotive, aerospace and military industries to increase efficiency.
CFD based experiments are cost effective in comparison to conventional methods and can estimate properties which cannot be empirically measured. For the last decade, Engineering Software Steyr GmbH (ESS) has been developing new CFD capabilities (particle-based methods) in the form of four new solvers (CFD simulation programs) and hybridizing them to increase usability.
About COA – CFD
CFD simulations require great expertise often unavailable for small or medium enterprises (SMEs). This restricts their competitiveness as vendors for manufacturing industries.
The goal of the Cloud-based Online Access to Computational Fluid Dynamic Simulations (COA-CFD) consortium shall democratize CFD simulations. This will enable non-expert users and opening this field for wider audiences and markets.
The way to democratization
Democratization will be achieved via hybridizing different solvers and by improving the human interaction interface. This will enable an on-demand cloud solution.
Furthermore, a design optimisation framework will be integrated into the solution by the University of Kaiserslautern (TUK) for an even better user experience.

Our partners & use cases
COA – CFD features collaborations with the companies CITKAR GMBH, AUDI AG, IONOS, Scientific Solution Systems and MYB Yzilim Muhendislik A.S.
CITKAR produces last mile vehicles and with the help of COA-CFD they will drop their needs of prototyping drastically in the future, since physical simulations help to detect the problems within the virtual world.
MYB Mühendislik Yazilim A.S. (MYB) and Audi Aktiengesellschaft (AUDI) will develop two top coating solutions for the automotive industry. These coating methods will be simulated by ESS's cloud platform solvers to provide actual demonstration for the benefits of the system.
The cloud solution
The cloud is going to be developed by Scientific Solutions Systems (SSS), IONOS and Engineering Software Steyr (ESS).
IONOS is heavily focusing on integrating GAIA-X technology into the cloud, while SSS is testing various hardware configurations. ESS develops the physical software solutions and interactive user interfaces as well as front and back end of the cloud.